Sydney & Coastal Highlights of New Zealand
Includes a hotel stay in Sydney
Package Includes
All flights & taxes
Hotel Stay
1 night four-star hotel stay in Sydney
Cruise
12 night cruise on board Ovation of the Seas® with all meals and entertainment

Choose from no less than 17 different dining options
Enjoy amazing theatre productions in the Royal Theatre
On board you'll find North Star, a viewing pod that raises you 300 feet into the air, giving you a whole new view of the world
Please note: Duration and itinerary of the cruise will vary month to month.
At a glance
Departing Oct 21 - Apr 22

Prices from
Interior
Price based on 29 Mar 2022 departure
Sydney
There's much more to Sydney than the iconic landmarks synonymous with its world-famous harbour. This scintillating city is teeming with attractions to suit all tastes and persuasions, including botanic parks, watersports on the beaches and globally acclaimed gastronomic hotspots. From The Rocks and its independent shops to the delicious aromas of Chinatown, it's all waiting to be explored.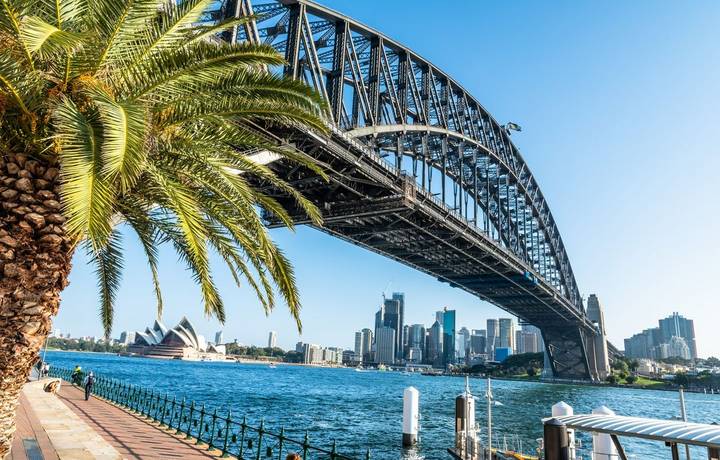 Enjoy the iconic sights of the main harbour or take a walk along Bondi Beach and watch surfers crest the waves. Embrace the city's cultural heritage and seek out the aboriginal rock carvings near Mackenzies Point, or tour The Rocks district for artisanal products and independent breweries and cafes. To escape the bustle, find tranquillity in the leafy surroundings of the Royal Botanic Gardens, one of Sydney's most popular attractions which features curious sculptures, pavilions and ponds teeming with waterfowl.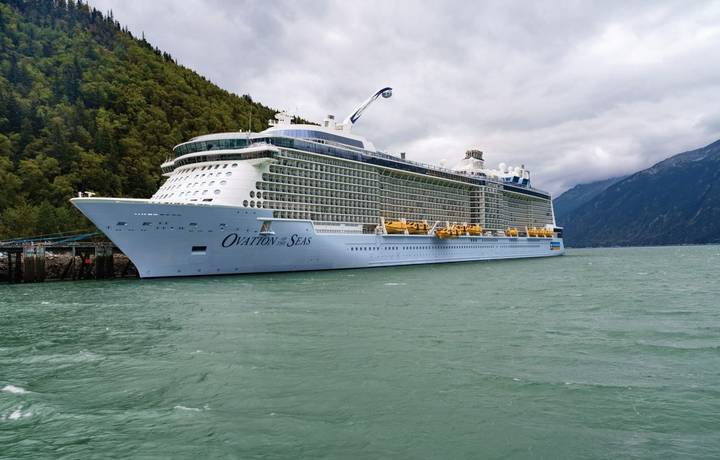 Sydney
- Embark Ovation of the Seas®
Today you'll embark Royal Caribbean's Ovation of the Seas®, one of the world's most innovative ships, for your cruise to New Zealand. This is a sleek and technologically advanced cruise ship, packed with amazing entertainment options. Whether you want to play on the dodgems or get served a cocktail by a robot, you'll be spoilt for choice. Naturally, you'll find a luxurious on-board spa, with treatments including facials, massages, body wraps and much more.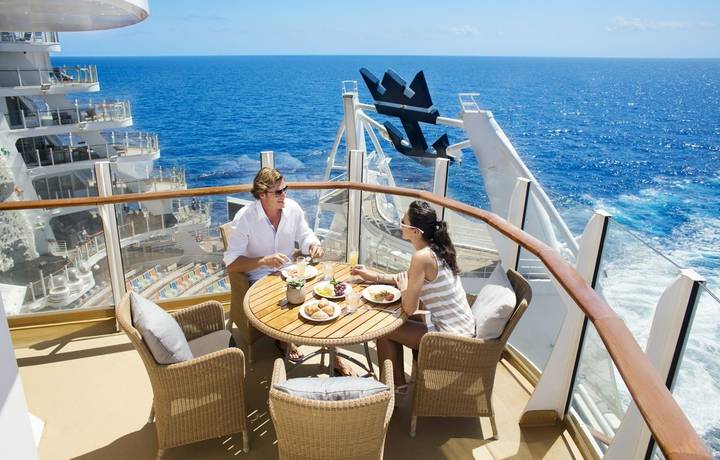 DAY 3 - 4
| 17 - 18 Oct 2021
You'll be spoilt for choice when it comes to dining options on board Ovation of the Seas®. From authentic New York pizza and dry-aged steaks to Asian flavours and restaurants designed by celebrity chefs such as Jamie Oliver, there's something to suit every taste and occasion. You can even gorge on delicious gourmet hot dogs, drenched with condiments, at Dog House.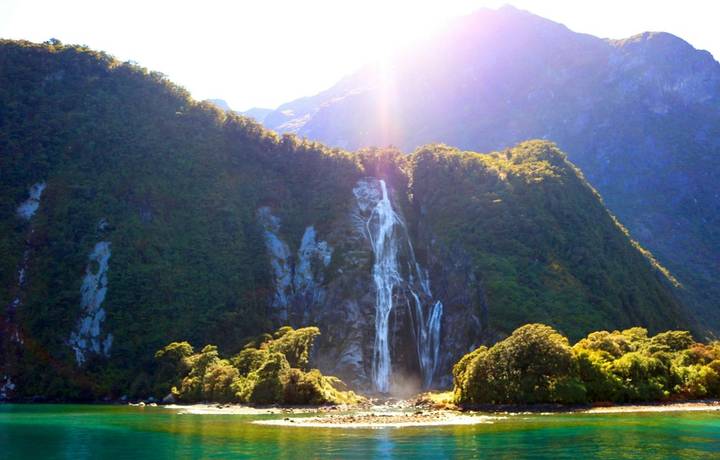 Milford/Doubtful/Dusky Sound (Scenic Cruising)
Get on deck and have your cameras ready as you glide through three of the most scenic areas of New Zealand's largest national park, a rugged Lost World terrain of steep, forested mountain-sides streaked with gushing waterfalls. With wildlife that includes dolphins, penguins and kakapos – the world's only flightless parrot – you couldn't ask for a better welcome to this famously scenic country.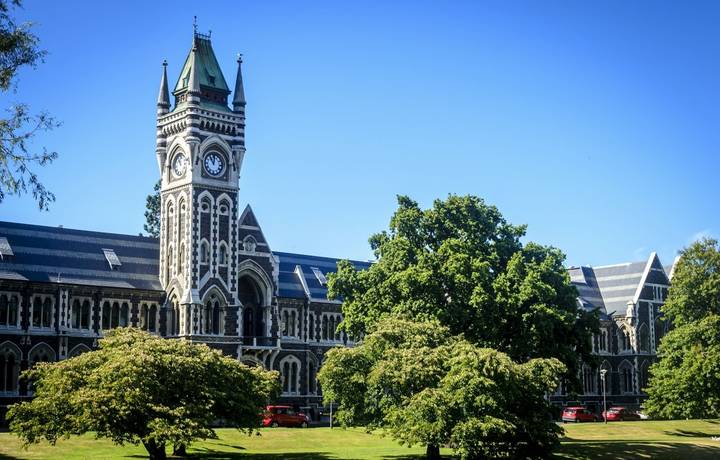 Once a Scottish settlement, Dunedin retains strong links to Scotland even today and has its own tartan. Lanarch Castle, built by a nineteenth century local businessmen with Scottish roots, is billed as New Zealand's only castle and the building and its gardens are now open to the public. With quaint harbourside villages, endless green hills and low-rise buildings, Dunedin has a laidback, understated atmosphere.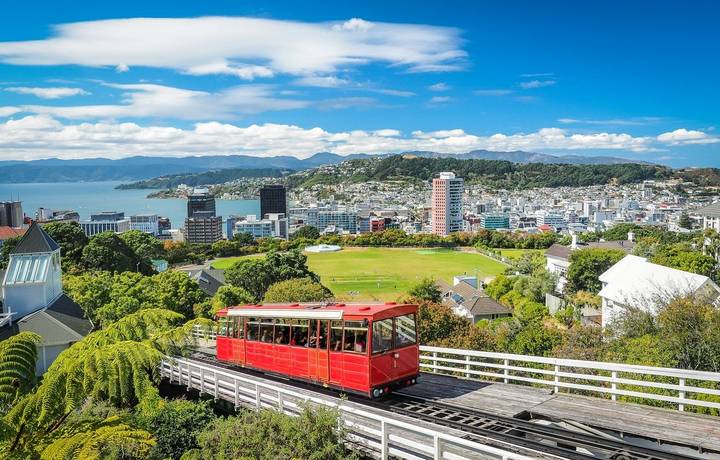 New Zealand's small capital city curls itself around the hillsides on the southern point of the North Island, looking out at the blustery Cook Strait. With a passion for coffee and craft beer, Wellington is bursting with energy and creativity and has a lively art, film and culinary scene. It's also home to the much-loved 'Te Papa' museum with its fascinating and engaging interactive exhibits.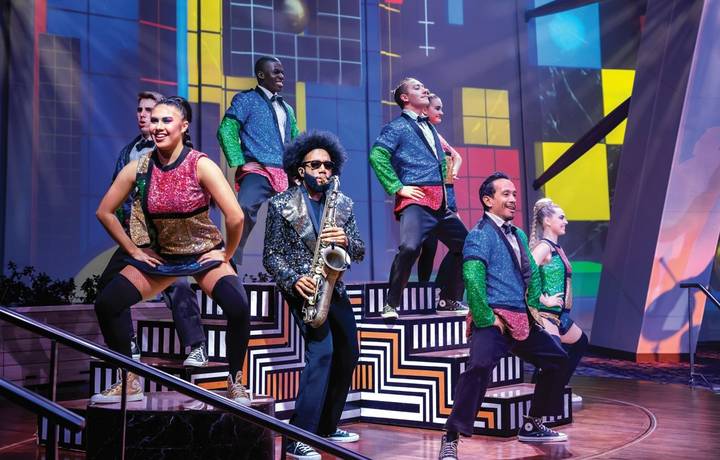 A day at sea is ample time for you to explore some of the activities on board. Head to the SeaPlex® for some retro-fun at the roller disco or marvel at the Pixels musical extravaganza, where art meets technology. If you fancy trying something new, join the Circus school to learn acrobatic skills or take up surfing on the Flowrider®. Reach new heights at the rock-climbing wall, or take the North Star to rise 300 feet in the air for jaw-dropping views.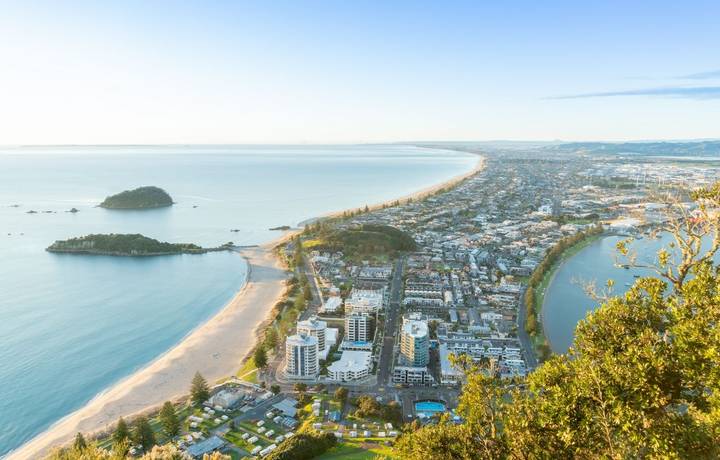 Welcome to Tauranga, a beachside city with plenty to offer, from spellbinding views to fascinating culture and gastronomic delights. Head to Somerset Cottage where you could sample true New Zealand cuisine made with locally sourced foods or if you want to escape the concrete jungle, explore the hot saltwater pools on Mount Maunganui. Walking to the top, gaze back down on this tranquil harbour.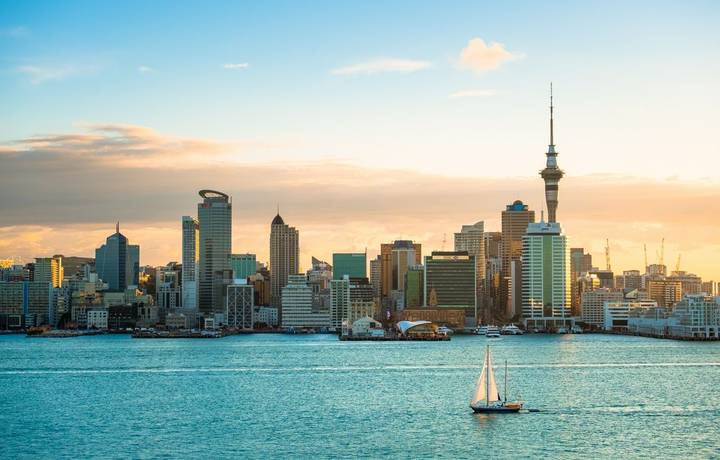 The lush greenery of Auckland's rolling hills are punctuated by the eyewatering skyline of the city's centre, offering a fascinating contrast of modern architecture and natural landscape. Escape to Mount Eden where you'll find the volcanic crater of Maungawhau and savour beguiling views across the city and both harbours. Climb One Tree Hill for panoramic views and explore the surrounding Cornwall Park, or pay a visit to the imposing Auckland Museum, a neoclassical temple that dominates the city skyline.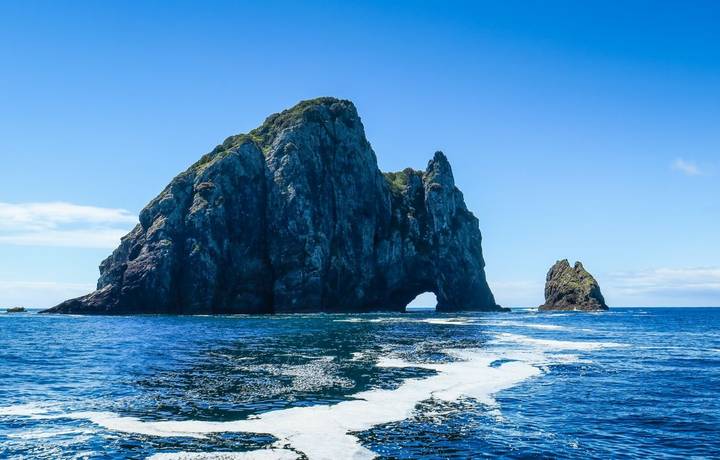 This stunningly beautiful bay is one of New Zealand's most popular destinations and it's easy to see why. Clear turquoise waters peppered with remote islands that are home to unspoilt beaches and an abundance of wildlife make it the perfect place for water-based activities such as kayaking, diving and sailing. You could also head out on a boat trip to the beautiful Cape Brett and explore the famous Hole on the Rock on Motukokako Island, rich in Maori legends of brave soldiers and coming-of-age warriors.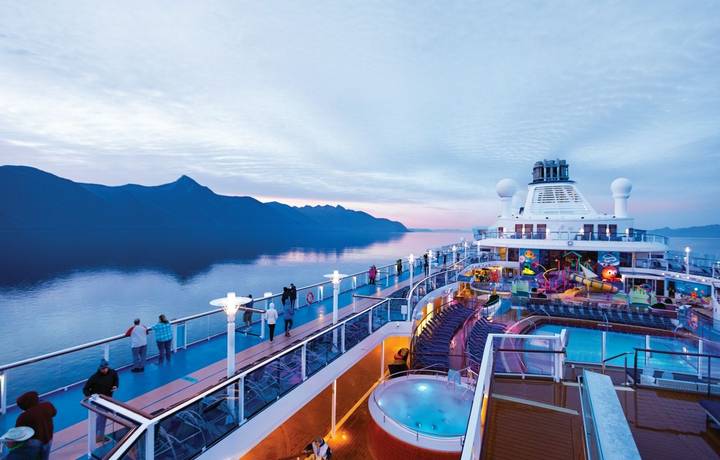 DAY 12 - 13
| 26 - 27 Oct 2021
After your offshore excursions, you could enjoy a relaxing day at sea. Float away on a cloud of bliss at the on-board spa with a range of treatments including facials, massages and body wraps. Or sit back on a lounger around one of the fabulous swimming pools and unwind in one of the four whirlpools on board.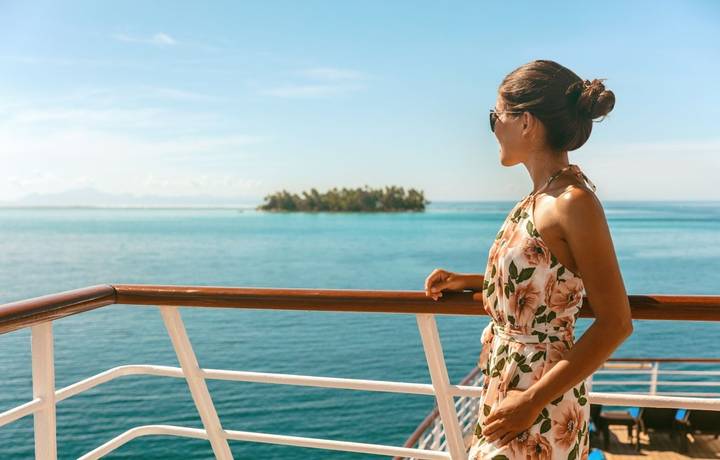 Sydney
- Disembark Ovation of the Seas®
Today you'll disembark in Sydney and fly home.
Welcome aboard the Ovation of the Seas®
Ovation of the Seas® is a sleek and modern, technologically advanced cruise ship, packed with amazing entertainment options. Whether you want to play on the dodgems or zoom around on roller-skates, you'll be spoilt for choice. Naturally, you'll find a luxurious on board spa, with treatments including facials, massages, body wraps and much more. There's bound to be a standing ovation or two in the Royal Theatre, where you can watch sensational performances. And you'll also discover ample dining options to suit every taste, along with new restaurants from two celebrity chefs: Jamie Oliver and Michael Schwartz.
Entered Service: 2016
Tonnage: 168,666
Number of Decks: 16
Passenger Capacity: 4,905
Total Crew: 1,500
Number of Cabins: 2,090
Wheelchair Accessible Cabins: Yes
Number of Pools: 4
Number of Restaurants: 17
Kids Club: Yes

Entered Service: 2016
Tonnage: 168,666
Number of Decks: 16
Passenger Capacity: 4,905
Total Crew: 1,500
Number of Cabins: 2,090
Wheelchair Accessible Cabins: Yes
Number of Pools: 4
Number of Restaurants: 17
Kids Club: Yes
regional flights available at a supplement
Departing
Departing
15 October 2021
Departing
6 November 2021
Departing
5 December 2021
Departing
21 February 2022
Departing
Departing
15 October 2021
Departing
6 November 2021
Departing
5 December 2021
Departing
21 February 2022
Departing
Departing
15 October 2021
Departing
6 November 2021
Departing
5 December 2021
Departing
21 February 2022
Departing
Departing
15 October 2021
Departing
6 November 2021
Departing
5 December 2021
Departing
21 February 2022
CALL TO BOOK:
1800 954 073
HOLIDAY CODE:
AUS2544