Luxury Sydney to Singapore Voyage
Exclusive to The Cruise Café
Your Experience:
18 night luxury cruise from Sydney to Singapore on board Queen Elizabeth with all meals and entertainment
Overnight in port in Singapore
2 nights at a 4 star Singapore hotel
All flights & taxes
Prices per person from
Flight From*
Sydney
Perth
Brisbane
Melbourne
Adelaide
Inside
$2,999 pp
$3,199 pp
$3,299 pp
$3,299 pp
$3,399 pp
Outside
$3,499 pp
$3,699 pp
$3,799 pp
$3,799 pp
$3,899 pp
Balcony
$4,299 pp
$4,499 pp
$4,599 pp
$4,599 pp
$4,699 pp
Grill Suite
$8,999 pp
$9,199 pp
$9,299 pp
$9,299 pp
$9,399 pp
Other regional airports may be available*
Your Holiday Itinerary
Sydney - Embark Queen Elizabeth
Embark the regal Queen Elizabeth, one of the finest cruise liners sailing the five oceans and a ship that offers a little of the finer things in life to all passengers who sail with her. Enjoy Cunard's spectacular heritage, sense of occasion and huge array of activities, including ballroom-dancing, lawn bowls and afternoon tea in the Garden Lounge.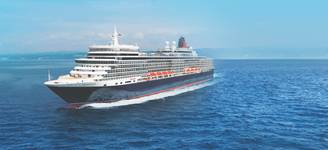 Brisbane
The Capital of the Sunshine state, Brisbane boast a vibrant café culture to match its classic relaxed Gold Coast vibe. While away the morning hours by meandering the city's river banks which are lined with busy malls, riverfront plazas, outdoor man-made beaches, water parks, botanical gardens and wildlife parks. If time allows, head to Moreton Island, a quiet retreat of sandy dunes, bush and lagoons.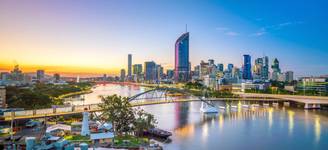 Cairns
A magnificent utopia, Cairns is home to the World Heritage Rainforests and the remarkable Great Barrier Reef. Spend some time in the remote wilderness of the Daintree Rainforest, one of the most diverse and beautiful examples of Mother Nature's work in the world or, take a stroll through the exotic Botanic Gardens for striking sights of lakes, rainforest plants and exotic wildlife.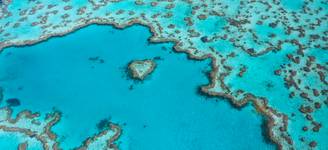 Alotau, Papua New Guinea
The charming, town of Alotau is situated on the edge of the bay on the eastern tip of Papua New Guinea. This town is isolated from any other town and relies on sea drops to provide for the locals living here. The province has the richest marine biodiversity life and is a popular destination for people to scuba dive, snorkel and relax on the white sandy beaches. Mountains, rainforests, waterfalls, caves and hot springs all surround this area as well as a deep local history.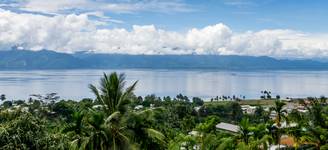 Kiriwina, Trobriand Islands, Papua New Guinea
Kiriwina is a stunning island, surrounded by sandy white beaches and crystal clear waters. This island is home to spell-binding history, untouched natural treasures and communities still practising age old traditions. This island is fascinating and beautiful all at once. The island offers amazing snorkelling and diving opportunities, scenic walks through the vast tropical rainforests and a wealth of historical landmarks.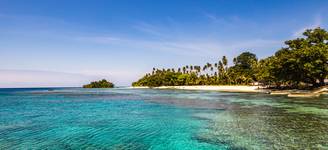 Rabaul, Papua New Guinea
The surreal old town of Rabaul is almost entirely buried in deep black volcanic ash from an eruption in 1994, but there are still beautiful sights to see such as the lush botanical gardens. The city's wartime history has left much to explore on the island, such as the Japanese tunnels and bunkers. Go diving and discover the remains of sunken Japanese battleships as well as amazing coral and sealife.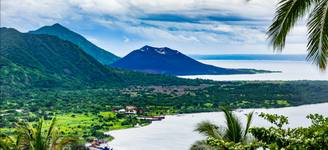 Puerto Princesa, Philippines
Acclaimed as the cleanest and greenest city in the Philippines, Puerto Princesa is a nature-lover's paradise, offering a wide range of outdoor attractions, from beaches to butterfly gardens. Honda Bay is the best place to go swimming and snorkelling, or visit the Palawan Wildlife Rescue and Conservation Centre to discover the local wildlife.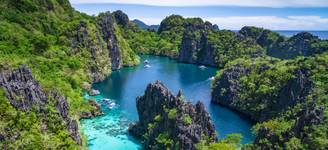 Singapore (Overnight in Port)
This exciting city of exotic fusions and contrasts is easy to explore. Go back to Singapore's roots with a visit to Chinatown where you'll find Buddhist, Taoist and Hindu temples side by side, before heading to the futuristic Marina Bay Sands area with its luxury shopping mall and iconic Skypark for panoramic views across the city.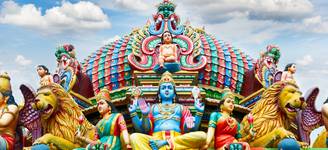 Singapore - Disembark Queen Elizabeth and Hotel Stay
Today you'll disembark your ship and have a further two nights to explore this exotic city. Admire the overwhelming clash of contrasts between Singapore's eye-watering skyline and hidden temples as you stroll amidst the city's streets. Steal away to Amoy Street Food Centre for delectable cuisine options to tickle your taste buds, or take a stroll through the arresting wonderland of Singapore's Botanic Gardens.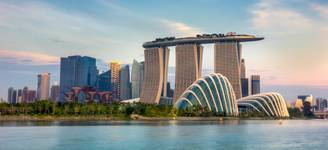 Singapore - Hotel Stay
With one more day left, you'll enjoy a day to fully embrace Singapore. Venture out to explore more of its rich heritage in historical buildings, Buddha temples and Arab bazaars before seeking out its modern touches. Bask in the delectable greenery at Gardens by the Bay, enliven your senses in Chinatown or take in the beautiful view of the Masjid Sultan, with its gleaming dome reflecting the sun's rays.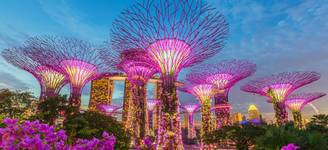 Your Ship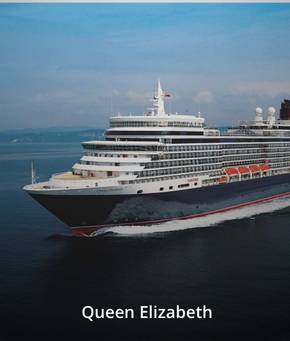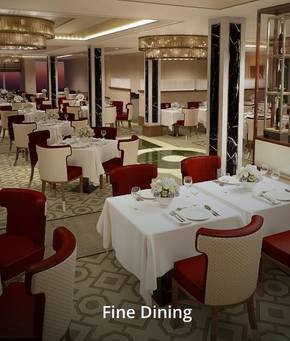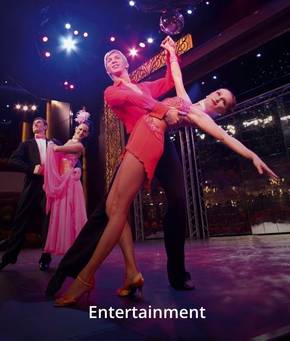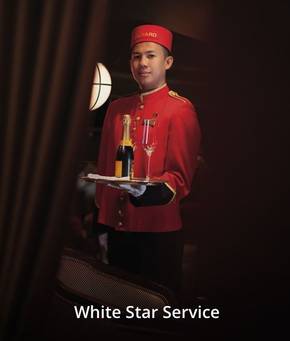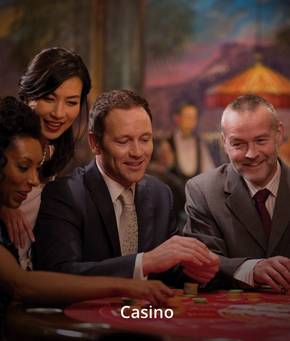 Queen Elizabeth
When Her Majesty the Queen conducted the naming ceremony in her own honour in October 2010, she continued a marvellously regal formal cruising tradition. Cunard has maintained all the refined styling, amenities and service associated with the Golden Era of cruise sailing and added modern facilities, leisure and entertainment opportunities. Stunning accommodation and the most exceptional fine dining you'll ever experience at sea are highlights of the glorious Queen Elizabeth cruise ship. Dance in the grand ballroom, enjoy afternoon tea served by white-gloved waiters, watch extravagant stage shows in opulent theatre surroundings or simply relax and revitalise beside one of the two lovely pool areas.
Key Facts
Entered service: 2010
Tonnage: 90,900
Number of Decks: 12
Passenger Capacity: 2,092
Total Crew: 1,020
Number of Cabins: 1,046
Wheelchair Accessible Cabins: Yes
Number of Pools: 3
Number of Restaurants: 3
Kids Club: Yes
Great places to visit on board:
Queens Room
Head here for traditional afternoon tea or to dance the night away at one of the glamorous balls.
The Garden Lounge
Designed to have the feel of a Kew Gardens conservatory, this is the perfect place to sit back and relax.
Commodore Club
Enjoy a signature cocktail with canapés before dinner while taking in glorious panoramic views.