Great Barrier Reef Discovery & Indian Ocean Odyssey: Sydney to Cape Town
Includes a 3 night hotel stay in Cape Town
Your Experience:
41 night cruise from Sydney to Cape Town on board Columbus with all meals and entertainment
Overnight in port in Mombasa
3 nights at a 4 star Cape Town hotel
All flights & taxes
Prices per person from
Flight From*
Sydney
Adelaide
Brisbane
Melbourne
Perth
Inside
$4,999 pp
$5,399 pp
$5,299 pp
$5,299 pp
$5,199 pp
Outside
$6,499 pp
$6,899 pp
$6,799 pp
$6,799 pp
$6,699 pp
Superior Outside
$8,499 pp
$8,899 pp
$8,799 pp
$8,799 pp
$8,699 pp
Other regional airports may be available*
Your Holiday Itinerary
Sydney – Embark Columbus
You'll embark the spacious and splendid Columbus in Sydney. On board and unpacked, you're free to make yourself at home by raising a glass and settling in to your first evening. With a delicious range of cuisine, you'll be spoilt for choice on where to feed your appetite first.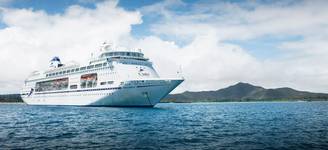 Airlie Beach
This relaxed town of palm-fringed beaches is the gateway to the sublimely beautiful Whitsunday Islands and the clear waters of Great Barrier Reef. It has a small selection of boutiques, cafes and markets but its main attraction is the selection of adventure trips you can take to visit the secluded beaches and hidden bays of the Whitsundays.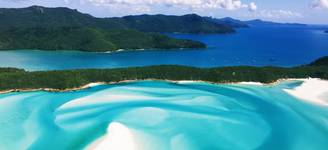 Great Barrier Reef (Scenic Cruising)
So big that it's able to be viewed from space, this aquatic natural wonder off the Northeast coast of Australia is the world's largest coral reef system. It's been hailed as one of the seven natural wonders of the world and is as iconic to Australia as Ayers Rock or the Sydney Harbour Bridge. Take a boat tour in the turquoise waters and you could spot everything from turtles to fish of every description weaving amongst seaweed ribbons and corals on the ocean bed.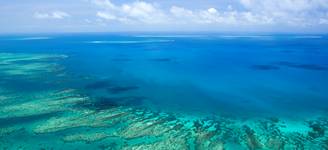 Yorkeys Knob
Just north of Cairns, the Best Kept Secret of North Queensland offers net-protected ocean swimming, letting you snorkel around the Barrier Reef in complete safety – though if you can tear yourself away from the stunning marine life there's lots to do on dry land. For a complete contrast, the nearby 7.5-kilometre Skyrail cableway affords a birds-eye view of the nearby rainforest flora and fauna - though if you don't have a head for heights, people-watching at the marina is a great way to switch off.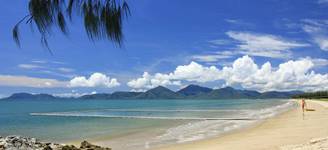 Great Barrier Reef (Scenic Cruising)
With another day to take in the marine beauty of the reef, you could discover some of the tiny islands dotted around the heavenly waters of the Coral Sea. Whether by donning your snorkeling gear or from the comfort of a glass-bottom boat, you can explore the Thetford and Nathan reefs, and head for the mangrove-lined Hinchinbrook Channel, home to dolphins and dugongs feeding on abundant seagrasses. You'll be accompanied by a guide whose knowledge of the area will enhance your once-in-a-lifetime expedition.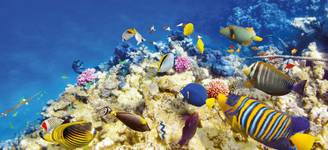 Darwin
The Northern Territory's tropical capital combines balmy nights, colourful cultures and exciting wildlife. Closer to Asia than Sydney, Darwin's exotic food markets feature many Asian influences. Venture outside the compact city centre with its chic marina to Kakadu National Park to see basking crocodiles, Aboriginal rock art and cascading waterfalls.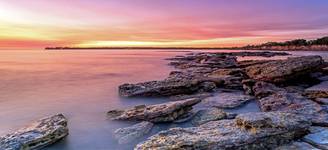 Bali (Benoa), Indonesia
Bali has it all: cliffside temples overlooking the sea, tranquil sunsets that turn sweet-smelling nutmeg forests gold and volcanoes looped with walking trails that reveal beautiful views. Whether you're after rich, cultural experiences or sandy beaches, you won't be disappointed.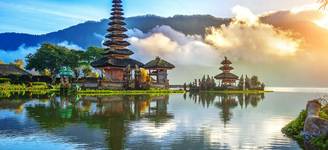 Singapore
Welcome to Singapore, where sacred temples sit in the shadows of sleek, science-fiction-style architecture and pristine streets lead to wild rainforests filled with dense canopies of banana trees and cinnamon plants. Escape the bustle and walk forgotten trails, be charmed in the UNESCO-recognised Botanic Gardens and enjoy gastronomic delights with chilli-spiked crab and fragrant laksa – you'll be spoilt for choice.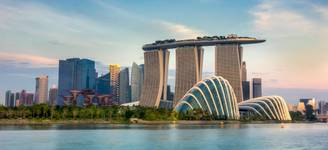 Malacca, Malaysia
This is one of Malaysia's most historic states, rich in heritage buildings, ancient landmarks and colonial relics. Malacca, also called Melaka, has so much British, Dutch and Portuguese inspired architecture that it was designated a UNESCO World Heritage Site. The bustling night market has a fantastic atmosphere with live music and friendly hawkers selling local produce and keepsakes.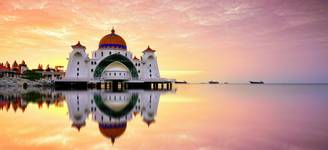 Port Klang (Kuala Lumpur), Malaysia
Dominated by the glittering Petronas Towers, you'll find hawker stalls, traditional neighbourhoods and the KL Bird Park, a landscaped aviary brimming with tropical birds. A must-see attraction are the Batu Caves, said to be around 400 million years old.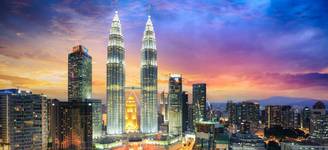 Penang, Malaysia
Sail to Penang's stunning shores and explore its colonial treasures, sun-drenched beaches and lush jungle trails. Visit tropical spice gardens or seek out Chinese shophouses, mosques and British colonial architecture in the dilapidated capital of George Town.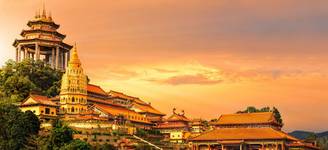 Phuket, Thailand
Thailand's largest island, Phuket's most enticing features are undoubtedly its powder white sandy beaches, crystal clear waters and lush greenery. Spend your day on one of the beaches, basking the gorgeous sun, unwind with a traditional Thai massage or seek out some culture atop the Nakkered Hills where you'll find the golden Big Buddha.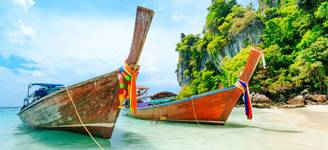 Colombo, Sri Lanka
Stretch your sea legs as you step into Sri Lanka's capital of Colombo. Make today a day to remember with an excursion to the jungle to meet some fantastic characters at the Pinnawala Elephant Orphanage. Established in 1975, it offers a sanctuary to around 96 elephants. You'll be able to view the care and daily routine of these magnificent creatures, a remarkable experience that will stay with you.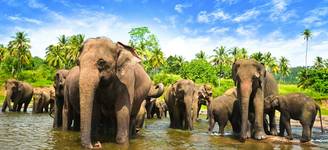 Malé, Maldives
Your next stop is the Maldives, a tropical archipelago in the Indian Ocean with idyllic beaches and warm cerulean waters, perfect for water sports or lazy beach days. Each of the 26 ring-shaped natural atolls are unique, offering their own combination of palm trees, beaches, lagoon and reef.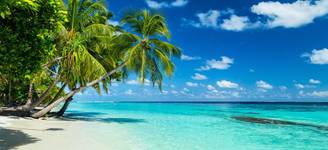 Mahé, Seychelles
The Seychelles is a haven for an incredible array of wildlife and almost half of its land mass is set aside for national parks and reserves. From the largest seed in the world, the fabulous Coco-de-mer, to the heaviest land tortoise, you won't find such unique and rare species of flora and fauna anywhere else on earth.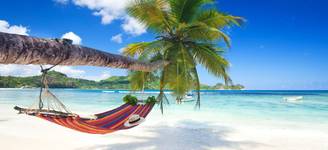 Mombasa, Kenya (Overnight in Port)
Mombasa is set around sprawling white sandy beaches and blue waters. This city is filled with conflicting images, from the wealthy hotels and resorts to the slums of Africa - this city will amaze and intrigue you. Historical ruins like Fort Jesus and the Old Town are attractions that display the history of Mombasa, while the Old Town offers a maze of alleys lined with market traders and historical mosques. Stunning beaches surround the local areas and offer peace and quiet from the bustling city centre.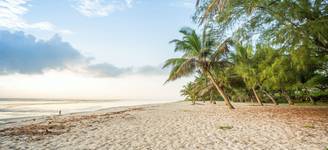 Durban, South Africa
The third most populous city in South Africa and famous for being the busiest port in the country, Durban is known as "the Asian Capital of South Africa." Cultures collide as you walk for miles in a sun-kissed, subtropical climate along golden beaches and take in the striking mountain ranges and plunging valleys. Don't miss the vibrant bustle of Victoria Street Market, a hub of local cuisine, history and intricate artistry.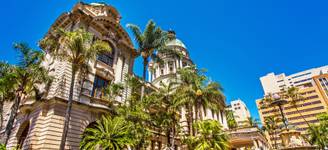 East London, South Africa
Lying on the Indian Ocean coast, East London is nestled between the Buffalo River and the Nahoon River. Bridging the gap between blankets of white sandy beaches and breathtaking wildlife safaris, East London provides both the thrill and the tranquillity to get lost in. Relax on the beach, do a spot of shopping at Hemingway's Mall or take a walk on the wild side at Mpongo Park Game Private Reserve.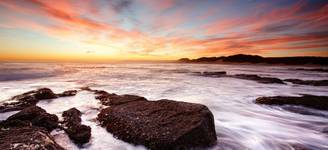 Cape Town, South Africa – Disembark Columbus and Hotel Stay
Today you will disembark your ship in Cape Town for your hotel stay. Surrounded on three sides by the Atlantic Ocean, the city of Cape Town is frequently voted one of the best cities on earth, thanks to its stunning natural scenery and new developments. Experience fine cuisine, fabulous beaches, vibrant culture and beyond the urban city capital, charming towns and rustic estates of Winelands destinations such as Stellenbosch – Cape Town really does have something for everyone.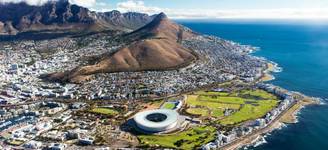 Cape Town, South Africa – Hotel Stay
With so much history and culture to see around Cape Town, you will have a couple more days to explore at your leisure. Pay a visit to stunning Boulders Beach, sheltered by its ancient granite boulders means it's protected from the wind and large waves. One of Cape Town's most visited beaches and the only place in the world where you can experience a close encounter with African Penguins.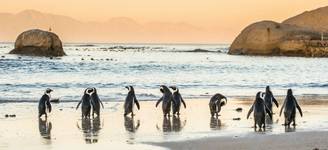 Your Ship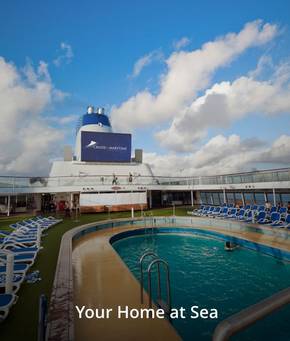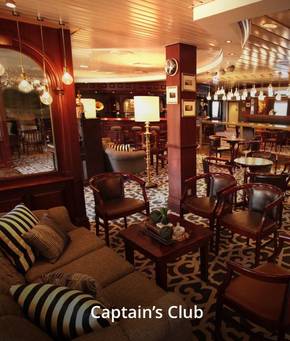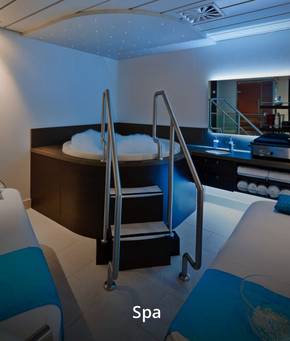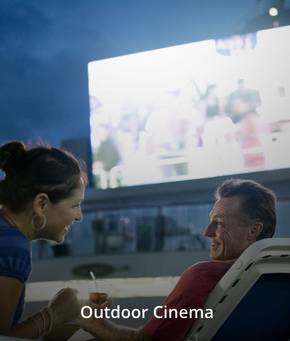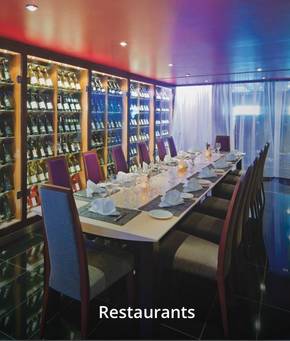 Columbus
An impressive ship, the Columbus enjoys a sterling reputation and offers the same class and traditional style that Cruise and Maritime Voyages is known for. Combining spacious surroundings and friendly service with fabulous entertainment and delicious cuisine, Columbus is the perfect choice for travellers looking for the ultimate experience and comfort. Not only is it primarily adult-only, you'll find a highly-acclaimed entertainment team with a resident pianist and violinist who perform live in the atrium. This ship balances a true maritime experience - think cradling your drink and staring out to sea with the sea breeze ruffling your hair - while infusing you with the comforting sense of a home away from home.
Key Facts
Entered Service: 28/05/1988
Tonnage: 63,786
Number of Decks: 11
Passenger Capacity: 1,800
Total Crew: 700
Number of Cabins: 775
Wheelchair Accessible Cabins: Yes
Number of Pools: 2
Number of Restaurants: 3
Kids Club: No
Great places to visit on board:
Jade Wellness Centre
Work up a sweat in the fully-equipped gym or relax and unwind with a fabulous massage or treatment from the spa for a bit of 'me' time.
Chef's Table
Sample delectable delights of a sumptuous dinner at the Chef's Table.
Observation Lounge
Tuck yourself away in the Observation Lounge that offers fine ocean views, giving you a peaceful place to relax with a good book.