South America Cruise
20 nights cruise from Rio de Janeiro to Marseille
Your Cruise Itinerary
Begin your holiday with a one night hotel stay in a 4 star hotel
Embark your ship - Costa Fascinosa
Rio de Janeiro is the most visited city in the southern hemisphere and the second largest city in Brazil. It's packed with iconic sights like Copacabana and Ipanema Beach, towering Mount Sugarloaf and the outstretched arms of Christ the Redeemer. After hosting the Rio 2016 Olympic Games the city is easier to explore than ever before and full of carnival flavour. Dance to samba or bossa nova in the city's exciting bars, sample some deliciously spicy cuisine or just relax on one of the beaches – you're on Rio time now!
Walking around the streets and squares of Ilhéus is like traveling through its History. Beautiful landscapes, environmental protection areas, sandy white beaches and crystal clear waters attract many visitors.
salvador de bahia (brazil)
In Salvador Bahia you can relax on the beach, soak up the rich history, sample the samba, take a trip to the lighthouse, visit one of the many cathedrals, museums and galleries or watch a traditional cultural show at the Bale Folclorico da Bahia. Renowned for its African influenced cuisine, music and architecture, Salvador offers something for every interest and taste.
Brazil's Maceió is a quaint seaside town admired for its coastal ambiance and vibrancy of the local culture. The white sand beaches of Paripueira Beach are surrounded by warm, green, clear waters. You will find coconut trees, palm trees, mangrove marshes, narrow cobbled streets, colonial architecture, old churches, and the birthplace of Brazil's first president. Discover the Municipal Marine Park and the world's second largest coral reservation, or take a short boat ride to Duas Barras.
This lively city is brimming with culture and is known for its amazing beaches. Visit the pristine white sands of Boa Viagem Beach and try the refreshing food and drink sold by the vendors. The city itself has many historic buildings, museums and churches to admire. Catch a production at one of the local theatres, or try one of the excellent restaurants.
st. cruz de tenerife (canary islands)
Tenerife is the largest and most popular of the Canary Islands, and home to Mount Teide, the tallest peak in Spain. Visitors can explore volcanic rock formations and tropical forest, beautiful beaches and dramatic landscape, with a diverse selection of nightlife on offer too.
Tangier is one of North Africa's most ancient cities, located where the Atlantic Ocean meets the Mediterranean Sea. Ruled through the centuries by waves of conquerors, each has left their mark on the city. It is now known for its excellent beaches and vibrant bazaars.
In Cadiz you enter another world of different cultures brought together. La Giralda the beautiful Gothic cathedral, is in Sevilles historic Jewish quarter Santa Cruz which also has the whitewashed houses and exquisitely coloured bougainvillea that everyone associates with this lovely city. Try walking the narrow lanes to find hidden gems along way before stopping for some locally made wine and tapas.
A gateway to so many Andalucian attractions and Costa del Sol resorts, Spanish port of Malaga stands out in its own right as a vibrant destination with its own unique character. Rising high above the city with spectacular views, are the ruins of the 14th century Moorish castle, and Malaga-born Picasso is recognised with a history of the artist's life at the city's fascinating Picasso Foundation.
Valencia is a popular and picturesque resort known for its pavement cafes, parties and paella. The old city is a great place to begin with the Valencia Cathedral and once inside you can climb the octagonal Miguelete Bell Tower to see sweeping views. In the new town you can see the stunning and ultramodern 'City of Arts and Sciences' with its fantastically shaped soaring glass palaces.
This city's swag of ornate churches and palaces is as astounding as the revitalized old port area that surrounds them. Visit the baroque piazza and order the Genovese specialties of minestrone and trofie al pesto or Sip a glass of Bianchetta Genovese wine, then stroll the waterfront to ride the Bigo crane for panoramic views of modern-day Genoa. Visit San Lorenzo Cathedral, Piazza de Ferrari and Maritime Museum.
Marseille is France's second largest city and a virtual melting pot of peoples and cultures with a salty city with a feel and culture all its own. Dominating the harbor is the infamous Chateau d'If, the rocky prison from which Alexandre Dumas' Count of Monte Cristo escaped. Marseille is also your gateway to Provence. Also try the renowned bouillabaisse or tour the lovely towns and vineyards of Provence.
Disembark your ship - Costa Fascinosa
Costa Fascinosa
The glorious Costa Fascinosa offers all the elegance and style of a traditional cruise holiday, with some brilliant modern innovations adding to your amazing holiday experience. As its intriguing name suggests, this stunningly attractive ship takes as its theme all the things that excite and fascinate us. From movie stars, opera and celebrities to exotic destinations whose very mention evokes sensations of seduction and allure. From the moment you arrive in the ornate grand atrium, with its glittering stairways and glass lifts, you'll feel like a star – and the red carpet treatment does not stop here.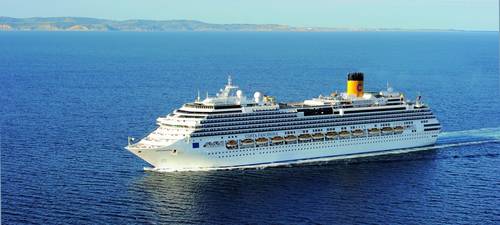 Key Facts
Entered Service: 29/07/2011
Tonnage: 113,321
Number of Decks: 13
Passenger Capacity: 3,800
Total Crew: 1,110
Number of Cabins: 1,508
Wheelchair Accessible Cabins: Yes
Number of Pools: 4
Number of Restaurants: 6
Kids Club: Yes
Prices per person from
Other regional airports may be available*