Africa to Italy: Treasures of the Indian Ocean
Includes hotel stays in Durban and Venice
Amazing Value | Book Now for 2021
Your Experience:
2 nights at a 4 star Durban hotel

25 night full-board cruise from Durban to Venice on board MSC Musica with all meals and entertainment
Overnight stays in port in Mauritius and the Seychelles

2 nights at a 4 star Venice hotel

All flights & taxes
Prices per person from
Flight From*
Perth
Sydney
Brisbane
Melbourne
Adelaide
Inside
$3,999 pp
$4,099 pp
$4,199 pp
$4,199 pp
$4,199 pp
Outside
$4,799 pp
$4,899 pp
$4,999 pp
$4,999 pp
$4,999 pp
Balcony
$5,799 pp
$5,899 pp
$5,999 pp
$5,999 pp
$5,999 pp
Other regional airports may be available*
Your Holiday Itinerary
Durban, South Africa - Hotel Stay
Durban is situated in the KwaZulu Province of South Africa and is the second largest city in South Africa. Locally known as Thekwini, Durban is South Africa's leading beach resort with ideal year-round beach weather and a relaxed atmosphere. Located along Africa's southernmost tip, Durban has an extraordinary ambiance and is known as Africa's 'busiest and best-managed port'.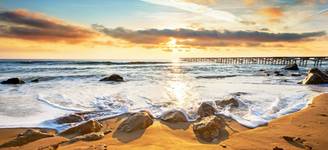 Durban, South Africa - Embark MSC Musica
From active to relaxing cruise holidays, Musica provides the perfect setting for both. You may choose to spend a morning with a swim in one of the three pools and when you've worked up an appetite, there are plenty of restaurants to try from the elegant Café Le Baroque to the modern La Terrazza Buffet.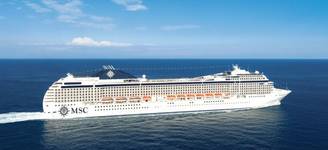 Réunion
Remote Réunion Island is located in the Indian Ocean between Madagascar and Mauritius. Known for its incredible landscapes, from the rain forested interior with its tumbling waterfalls, to the white-sand beaches and colourful coral reefs, it's a beautiful island to explore. Hike to the Piton des Neiges, dine on the fusion of Creole, Indian and Chinese cuisine, or swim in the turquoise lagoons.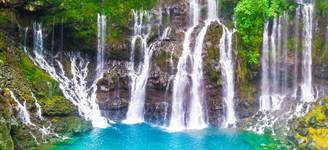 Mauritius, East Africa - Overnight in Port
Sugar-white sand, enchanting lagoons and colourful reefs make every photograph taken in Mauritius look postcard-perfect. The island, ringed by coral and dotted with mountains, is brimming with things to see and do. Take a boat excursion to spot whales and dolphins, hike the Black River Gorges National Park or simply laze on the beach alongside the ocean.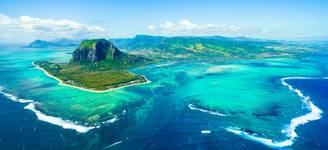 Seychelles, East Africa - Overnight in Port
An archipelago of over a hundred picturesque islands in the Indian Ocean, the Seychelles are a true tropical paradise. Home to white-sand beaches kissed by clear waters that are filled with colourful coral and exotic marine life, it's a fantastic destination to go diving and snorkelling.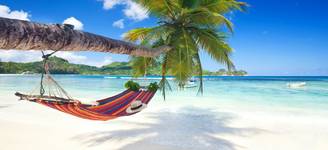 Aqaba, Jordan
Located on the Red Sea's Gulf of Aqaba, Aqaba boasts a myriad of beaches and is a popular destination for scuba diving and snorkelling. Aqaba also serves as the gateway to the pink-hued city of Petra, one of the new Seven Wonders of the World and the desert wilderness of Wadi Rum.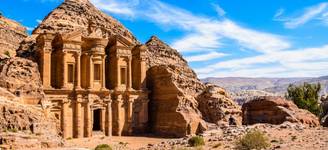 Suez Canal (Scenic Cruising)
Sit back and enjoy your cruise through the Suez Canal, one of the world's most impressive man-made waterways that takes in the sights of Port Said, Ismailia and Suez along the way. Keep your camera ready to capture this famous engineering marvel.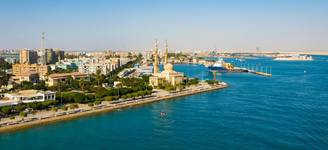 Katakolon, Greece
Your next port of call is Katakolon, the gateway to ancient Olympia, the playground of the gods and heroes of Greek mythology. As the spiritual home of the Olympic Games, this is where the Olympic flame is lit for each Olympiad. Here you can also admire the surrounding countryside with its rural villages, olive groves and vineyards.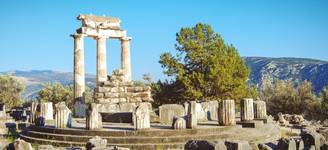 Kotor, Montenegro
Kotor is located along one of Montenegro's most beautiful bays. Medieval architecture and numerous monuments of cultural heritage have made Kotor a must-visit destination. Here you'll find imposing mountains, shrouded by mist, overlooking near-endless museums, churches and charming squares – the perfect place to sit back and relax.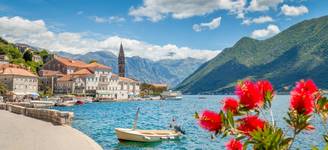 Split, Croatia
Split blends ancient monuments, natural beauty and modern Dalmatian life with consummate ease. With its spectacular setting – think mountainous backdrop offset by the turquoise waters of the Adriatric – it's no wonder that a Roman emperor choose to build his palace here. Today, Diocletian's Palace is one of the finest and best preserved Roman monuments in the world.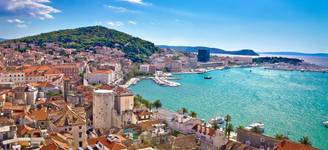 Venice, Italy - Disembark MSC Musica and Hotel Stay
Discover secret passageways, dramatic Gothic architecture and the famous Venetian cuisine; all of which contribute to the beauty and intrigue of this enchanting city. Defying both logic and architectural techniques, the city stands as beautiful as ever, an incredibly well-preserved network of waterways and grand palazzi. Take a trip on a gondola, an iconic experience and undisputed romantic symbol of this timeless city.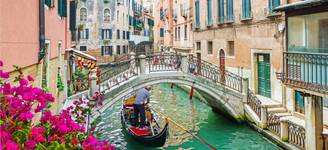 MSC Musica
There's always music in the air on board the MSC Musica. From the moment you step on board you'll notice a little magic about this cruise ship – in the central foyer area you'll find a three-tier waterfall and a semi-transparent grand piano suspended above a pool of glimmering water. There's plenty of choice when it comes to restaurants. Food is hand-prepared by master sushi chefs in the authentic and minimalist Kaito Sushi Bar, and Il Giardino provides a taste of contemporary Italian cuisine.
Key Facts
Entered Service: 01/01/2006
Tonnage: 92,409
Number of Decks: 13
Passenger Capacity: 2,550
Total Crew: 1,014
Number of Cabins: 1,275
Wheelchair Accessible Cabins: Yes
Number of Pools: 3
Number of Restaurants: 6
Kids Club: Yes
Great places to visit on board:
Teatro La Scala
Choose from two shows each night, ranging from music concerts to acrobatic shows, in this spectacular theatre.
Le Maxim's
Savour American and Italian dishes in the luxurious surroundings of Maxim's.
Laguna Bar
Cool off with your favourite cocktail or ice cream at this outdoor bar close to the pool area.