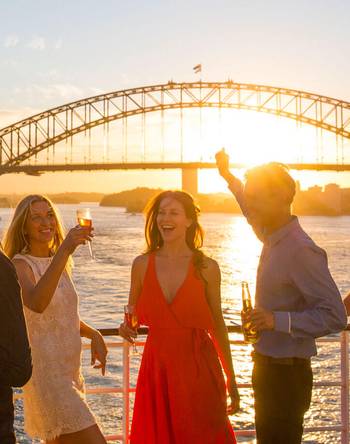 Cruise with
P&O Australia
Originally a sister company of P&O Cruises in the UK and now part of the Carnival Corporation, this popular cruise line is the only one with its head office in Australia and has been taking Australians and New Zealanders on their dream holidays for almost 90 years. Combining amazing entertainment with world-class dining and travelling to an impressive list of idyllic destinations – more than 80 ports - it's a firm favourite with families and couples who keep coming back for more. Indeed, this company has consistently been voted one of the most trusted brands in Australia by Reader's Digest Magazine.
The Experience
P&O Cruises Australia provides a family-orientated experience that's relaxed, friendly and flexible, helping you slip into care-free holiday mode. Savour the casual ambience and contemporary setting that makes it such a popular cruise line for multi-generational groups, and let the staff take the little inconveniences like cooking, cleaning and organising off your hands. They'll even supervise your kids at the wonderful Kids Club, where agespecific activities are in plentiful supply.
At shore tours
Ensure you get the very best of every port of call and maximise your experience by going on tours run by experienced local guides. If you're a true culture vulture or avid history buff, this is the best way to take away far more from your destination than a mere souvenir snapshot. Live like a local for a day and get a more enriching vacation.
An array of places to eat
Across the fleet you can expect quality ingredients sourced through Australian farmers and suppliers, with a choice of up to 17 different dining experiences and dishes concocted by celebrity chefs, Luke Mangan and Johnny Di Francesco. From the Pan-Asian delights of Dragon Lady to Italian at Angelo's, from casual to connoisseur, it's all here. And you can choose when, where and how you dine.
A treat for all your senses
Enjoy an hour or two of blissful serenity in the spa – open daily - where qualified staff will pamper you with a wide range of decadent and relaxing therapies. From massages and facials to acupuncture and reflexology, as well as luxurious treatments for men, it's a place to zone out and find true relaxation whatever's going on in the rest of the ship.
Dazzling nightlife
Soak up the glamorous cabaret at Black Circus, find acclaimed musicians in the sumptuous surroundings of the Blue Room and catch shows that range from Let's Misbehave to Rock - Anthem of Ages. There are also numerous indoor and outdoor bars in which to sink a cocktail or a few beers in the evening while watching the sun dip below the horizon.
Activities
Enjoy disco-themed waterslides, barefoot bowls and loads of other fun deck games. The P&O Edge Adventure Park is your ticket to action and excitement. Test your agility with a rock-climbing session, brave The Flying Fox zip-line and - not for the faint-hearted - Walk the Plank. Families will adore the wealth of options available on your days at sea.