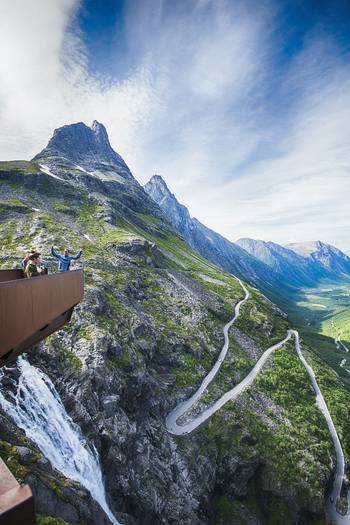 Cruise with
Hurtigruten
Hurtigruten's illustrious maritime heritage is rooted in the northern fjords of Norway, whose waters it has navigated since 1893. Today it's a world leader in exploration travel – particularly to the most extreme ends of the globe – taking thrill-seeking passengers to the frozen wilds of Antarctica, Greenland, Iceland, Alaska, the Northwest Passage and more. Hurtigruten boasts impressive ecological credentials. In 2018 it banned the use of all single-use plastic on its ships and in 2019 launched the world's first hybrid powered cruise ship: MS Roald Amundsen, labelled the 'Green Pioneer'.
The Experience
While Hurtigruten made its name carrying freight and mail between remote regions, which it still does today, its ships are kitted out for comfort. The terrain outside might be inhospitable but in the confines your ship you'll have access to state-of-the-art facilities and special features such as observation lounges and panoramic windows – even when you're having lunch. On a Hurtigruten cruise, you're not just taking a holiday; you're broadening your understanding of the planet.
On-board learning
On Hurtigruten's ships you'll take great delight in enhancing your cruise experience with educational programmes, lectures and state-of-the-art science centres. Learn from onboard expedition teams who will help you interpret the nature, wildlife and culture of the destinations you visit. On land, they'll accompany you on hikes and, with their photography expertise, show you how to get that perfect shot for posterity.
Dining at sea
Serving everything from free-range reindeer meat to the freshest seafood from the Barents Sea and excellent vegan options, the restaurants on Hurtigruten's ships provide a true taste of Norway. Head to restaurants such as Lindstrom for speciality cuisine or to the café-style Brygga Bistro for pizza, sandwiches, burgers and steaks, as well as a range of mouth-watering sweet treats. On Norwegian coastal cruises, fresh ingredients are delivered to the ship every day.
Sensual escapes
Most of Hurtigruten's ships come equipped with high-tech wellness centres for onboard pampering sessions. Soak in the jacuzzi, take a sauna with a sublime ocean view or rejuvenate in an outdoor hot tub as snow-capped peaks and pin-clad hills rise in the distance. There are also state-of-the-art gyms designed in quintessential Scandinavian style – sleek, modern and minimalist.
Scandinavian-style decor
Hurtigruten's ships are awash in typically Scandinavian design flourishes, with emphasis on natural materials such as granite, oak, and birch, creating elegant and comfortable interiors that echo your surroundings. Ships are specially designed to ensure you miss little of the spectacular terrain you pass through, with forward-facing observation decks and stylish explorer lounges with expansive windows. Perfect for scanning the sea for whales or looking out for the spectral beauty of the Northern Lights.
Excursions
From spotting polar bears in the Arctic to hiking in the forests of Alaska to learning about the fascinating culture of Greenland and its Viking history – excursions led by experts are what make Hurtigruten cruises so memorable. Few cruise lines enable you to engage with your surroundings so much, ensuring you end your holiday with a wealth of new-found knowledge.