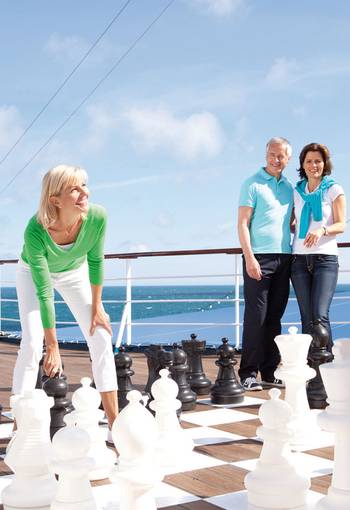 Cruise with
Cruise & Maritime Voyages
Headquartered in Essex on England's River Thames, Cruise & Maritime Voyages is Britain's leading independent cruise line and with its intimate, smaller ships, offers passengers a leisurely and traditional country-house cruise experience with a home-from-home atmosphere.
From cruises around the British Isles to far-off continents, CMV's destinations cover much of the world and they also host themed cruises, especially at Christmas time when you can visit beautifully decorated European cities. They also offer a host of mini cruises for those with less time on their hands. Choose from a range of itineraries to suit all tastes and budgets.
The Experience
With CMV, the emphasis is very much on personal service and going that extra mile for its passengers, who can expect a quintessential cruise experience without the hi-tech novelties of the industry's giants. With its intimate smaller ships, a wide range of ports can be accessed, including a number of less-frequented destinations, and ships embark from some of the UK's smaller ports, such as Bristol Avonmouth, Dundee and Hull.
Columbus Club
If you're a regular with CMV, why not join their customer loyalty scheme, a special club that gives access to a range of exclusive benefits? Customers who qualify for Gold, Platinum or Diamond membership will receive a welcome pack including a lapel badge and nautical log book. Benefits include discounts on on-board laundry services, discounts on future bookings and invitations to the Captain's or Officers' table on cruises of 12-plus nights.
Mouth-watering menus
Start the day with a hearty English breakfast and enjoy a leisurely lunch, while every evening serves up a sumptuous five-course dinner. There are plenty of vegetarian options and there's an excellent wine list to choose from. On Columbus, Magellan and Marco Polo you'll also find Fusion, a speciality restaurant which provides a 'journey into Indian gastronomy'. Breakfasts and lunches are generally served in the restaurants on an open seating basis.
Serenity at sea
All CMV's ships are home to a well-equipped spa or wellness centre staffed by professionals. Enjoy everything from aromatherapy essence baths to luxurious caviar facials and more. You'll also find saunas, jacuzzis and fitness facilities for when you're ready to work off those lavish meals. With hairdressing facilities on board for both men and women you'll always look impeccably well groomed.
Into the night
Find everything from vibrant cabarets to talented pianists in the ships' array of entertainment venues, while some ships feature A Laugh On The Ocean Waves comedy programme, with traditional stand-up performances. There's also quizzes, organised card games and 'An Audience With…' evenings, which are part lecture, part question-and-answer session.
Festive voyages
Whether you want to escape during the winter break and experience Christmas and the New Year celebrations in another continent, or seek a beautifully decorated city in Eastern Europe for an enchanting wander around quaint Christmas markets, CMV have plenty of options. They even have Easter breaks where you can cruise around the British Isles and discover islands you never knew existed.