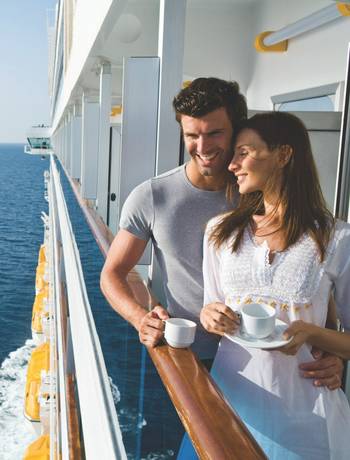 Cruise with
Costa Cruises
Headquartered in Genoa, Italy, and the only cruise company flying the Italian flag, Costa has been providing fun and affordable family cruises for over seventy years. It operates at a global level, mainly on routes throughout Europe – especially the Mediterranean – the Americas, the Indian Ocean, the Far East and Africa. With an eye on introducing several next-generation ships to its fleet to minimise the environmental impact of the places it visits, it's a pioneer in sustainability. As an Italian company, there's a European flavour to everything it does, from food to entertainment, and it is one of the most familiar names in the industry.
The Experience
On a Costa cruise, expect Italian influences throughout, whether it's the décor, the art works on the walls or the menus in the restaurants – there is always at least one Italian restaurant on board. A casual ambience prevails, with an easy-going family-friendly atmosphere and plenty of activities and entertainment for all ages. Your days at sea will fly by in a blur of fun on a Costa cruise.
Costa Club
By joining Costa Club you'll get to take advantage of a range of benefits, including special discounts of up to 20%, on-board gifts, privileges and surprises, while the longer you're a member, the more you get. If it's your birthday you'll even get a cake. There's also free coffee, cabin upgrades and more to be enjoyed – for Costa regulars, it's a must.
An array of places to eat
Naturally, on any Costa ship you'll enjoy fine Italian food, with authentic recipes from celebrated Italian chefs and food sourced from all over Italy and the Mediterranean. But you'll also find a host of other international cuisines to ensure your taste buds never get jaded. There's Japanese teppanyaki, Pacific fusion, and a range of options for those with intolerances and allergies.
A treat for all your senses
Relaxation is one of the key ingredients of any cruise, especially the epic voyages where you're at sea for days at a time, so the spa is an essential sanctuary of serenity. Costa cruises provide everything from soothing massages to saunas to endless beauty treatments in its tranquil Samsara spas, and you can sip a refreshing mint tea straight afterwards.
The night is yours
Immerse yourself in Costa's nightly extravaganza of diverse entertainment, which encompasses musicals, gravity-defying acrobats, magicians, and accomplished bands playing hits from the past and present. There's even events laid on for children. And you can even be part of the entertainment yourself when you take part in the fun on-board talent contest: The Voice. Join in if you think you have what it takes.
Excursions
Costa travels to some of the world's most fascinating places, teeming with ancient history, natural beauty and rich cultures. To get the most out of your cruises, let their expert guides accompany you to sites of interest. Costa's excellent Adagio Tours lead group excursions for passengers who wish to experience dry land at a relaxed pace, admiring enchanting places and unforgettable attractions.